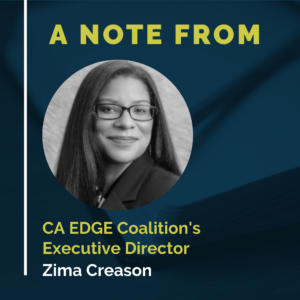 A year ago this month, George Floyd was murdered and our lives were forever changed. This was not just a moment in time, but a moment of our lifetime. In memory of Mr. Floyd, I urge all of us to renew, and act on, our commitment to social and racial justice for all.
We all have a role to play to achieve this goal and I truly believe that we can realize this dream by working together in solidarity.
May was a busy month as Governor Gavin Newsom released his May Revision budget proposal. Many of the proposed investments reflect EDGE's priorities – tackling economic inequities, increasing access to postsecondary education/training, and increasing affordable broadband connectivity. Be sure to check out our summary of the May Revision for details and the EDGE perspective. Our advocacy continues while the EDGE team closely follows legislative budget hearings as they work to finalize the budget by the June 15th deadline.
I'm happy to share that all of EDGE's priority bills passed out of the Senate and Assembly Appropriations Committee Suspense File, and we thank our State leaders for their support and ongoing commitment to our shared goals. Please keep an eye out for opportunities to join us in advocacy activities as these bills advance through the legislative process.
Moving into June, EDGE will press on with initiatives that support individuals and industry as we move through pandemic response and recovery. One of our key priorities is to protect and expand a social safety net to ensure people have access to the support they need to achieve their education, training, and career goals. Take a look at our article uplifting the importance and value of a safety net.
Our Nation will soon observe Memorial Day, a day to honor and mourn the brave souls that lost their lives serving our country. All of us here at EDGE extend our deepest sympathies to the families who experienced this unimaginable loss, and we also extend our gratitude to those that paid the ultimate price to protect us. From the bottom of our hearts, thank you.
As the world transitions to its new normal, we continue to wish you and yours good health and safety. Take good care.

Click here to view: Monthly Newsletter, May 2021