As the pandemic conversation shifts to recovery, much of the work centers on not just going back to the way things were, but rather seizing this moment to create a better, more just California — addressing the disparities existing prior to the pandemic, and ensuring another crisis will never impact the most underserved the way it did this past year.

Anna Alvarado, CA EDGE Coalition's Policy Director, describes a social safety net as "support services for low-income or no-income individuals, which include but are not limited to, health care, food assistance, and other forms of cash assistance."

But how does a social safety net relate to California's pandemic recovery and EDGE's mission to ensure a quality workforce and economic mobility?

Alvarado explains, "For EDGE, access to basic needs such as food, housing, transportation, childcare, and healthcare, enables individuals facing systemic barriers to complete their programs of study and secure quality jobs."
Throughout the pandemic, many individuals have had to make difficult decisions to either pick-up multiple jobs to make ends meet, drop out of training programs due to lack of access to childcare or family obligations, and/or make difficult decisions on whether to pay rent or put food on the table. A social safety net is a critical component to lifting Californians out of poverty and giving them the opportunity to pursue their educational and career goals. Meeting the basic needs of Californians is the bridge to security, and leads to self-dependence and growth — but it starts with addressing the worry that one may be forced to disrupt their dreams in order to afford to live.
Currently, the CA EDGE Coalition is engaged in the legislative and budget process, identifying proposals that seek to secure social safety net resources for Californians. "Legislative, budget and regulatory issues centered around helping Californians complete their educational and career goals are what we are heavily focused on throughout the year," Alvarado explains. "There are many initiatives out there that seek to support working families, low-income students and adult learners, and we are committed to advancing them."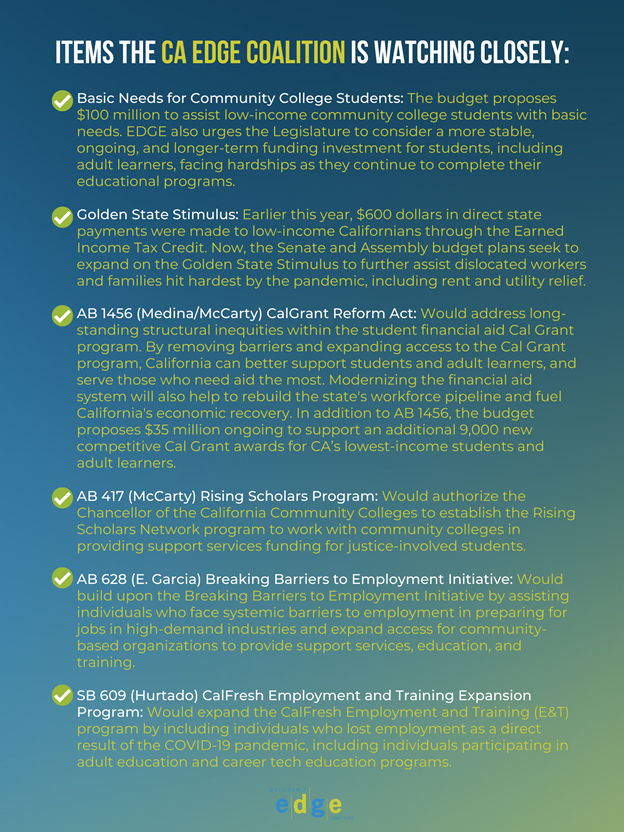 As EDGE pushes to advance these initiatives, partnership is key. Coalition building is a major component to advancing these initiatives and partnering with organizations that share mutual goals with EDGE – seeking to leverage federal and state dollars to support opportunities for low-income students, adult learners, and working families. Some of the partners involved in our work are experts in workforce development, immigration issues, student financial aid, education, labor, industry practices, social justice issues, as well as business leaders.

This ongoing work is raising awareness and stimulating conversation on the importance of a social safety net, which has helped key decision makers understand why addressing the immediate impacts of the pandemic is only part of the recovery work ahead. As we await the release of the Governor's May Revision, we hope to see investments towards the initiatives mentioned above, which address the importance of securing a social safety net that provides critical support services for low-income students, adult learners, and dislocated workers seeking to retrain and upskill in order to obtain a family-sustaining job. And although the road ahead is long, the gains are monumental for California's communities. The CA EDGE Coalition is proud to help lead a foundational approach to addressing real economic recovery and prosperity.