Call to Action: Support Education & Workforce Bills Pending on the Governor's Desk!
With the end of the 2023 legislative session, several education and workforce development bills are now headed to Governor Newsom for approval. With your support and action, these bills are one step closer to becoming state law!
Please join us in our advocacy efforts and submit letters of support to the Office of Governor Newsom urging him to sign these critical bills into law! Letters should be submitted via email by Thursday, September 21st to this email address: leg.unit@gov.ca.gov 
Provided below is a list of pending bills and brief descriptions, along with links to the full bill text and fact sheets. You will also find letter templates you can modify and use. In addition to submitting letters to the Governor, join us in social media advocacy! Click here to access ready-to-go Twitter/X posts.
Follow us on Twitter/X for the latest bill updates! 
For any questions, contact Anna Alvarado, Policy Director, at aalvarado@caedge.org.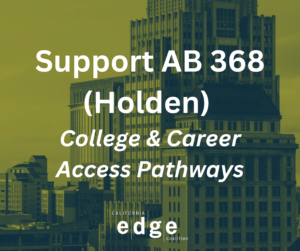 AB 368 (Holden) College & Career Access Pathways. This bill would update the definition of "underrepresented in higher education" that is used for the College and Career Access Pathways (CCAP) program, which facilitates dual enrollment programs. The bill intends to ensure underrepresented students are receiving priority registration for dual enrollment programs, including undocumented students, first-time college students, foster youth, homeless students, and student parents. The bill also requires data collection on student demographics and course completion.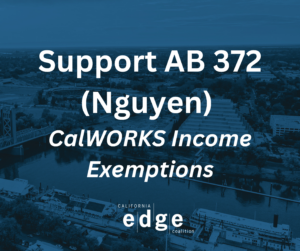 AB 372 (Nguyen) CalWORKs Income Exemptions. This bill would exclude pre-apprenticeships and apprenticeships income in order to determine CalWORKs eligibility for individuals participating in these programs. This exclusion will expand access to cash assistance through CalWORKs for more underserved Californians facing socio-economic barriers and further incentivize individuals to participate in apprenticeships.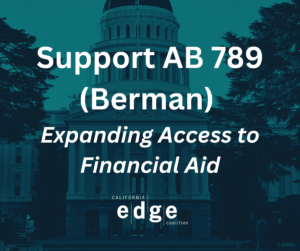 AB 789 (Berman) Expanding Access to Financial Aid. This bill would enable students who struggle academically to continue their education by removing barriers to maintaining their financial aid. Research shows that nearly one in four first-year, low-income students attending a higher ed institution do not meet the Satisfactory Academic Progress (SAP) standards required to receive state and federal financial aid, and many do not continue their education or training. AB 789 will create a common set of SAP standards, remove additional requirements that are more restrictive than those federally mandated, and ensure students have clear pathways to regain financial aid.