Check out the new report from CAEP & High Road Alliance – Dual Enrollment in CA Adult Education & Community Colleges: Lessons & Opportunities.
EDGE proudly sponsored SB 554, authored by Senator Roth & signed by Governor Gavin Newsom, in 2019 and proudly served as an advisor on this project.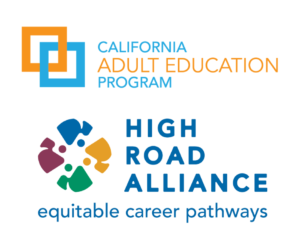 "Since the adoption of Senate Bill (SB) 554 in 2019, an adult student pursuing a high school diploma (HSD) or a high school equivalency (HSE) certificate in California is authorized to enroll as a special part-time student at a community college. This student receives credit-bearing college instruction and services at no tuition cost, and the college increases enrollment and receives enhanced apportionment funding for instruction. Few adult education consortia have implemented this student acceleration strategy, however, and few adult students have realized the benefits of dual enrollment. Given its potential to equitably expand college access among California's nearly 430,000 adult education students, adult dual enrollment (ADE) merits the attention of every one of the state's seventy-one adult education consortia."
Read the full report here.
View the PowerPoint presentation here.