AB 1746 by Assemblymembers Jose Medina and Kevin McCarty will be heard in the Senate Education Committee on Thursday, June 30th upon adjournment of session and we need your support!
AB 1746 (Medina/McCarty) Cal Grant Reform would address long-standing structural inequities within the student financial aid Cal Grant program by removing barriers and expanding access to underserved students and adult learners. Modernizing the financial aid system will help to rebuild the state's workforce pipeline and fuel California's economic recovery. (Factsheet)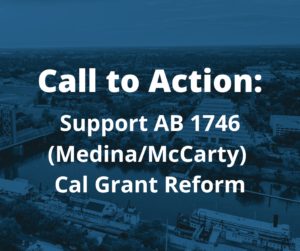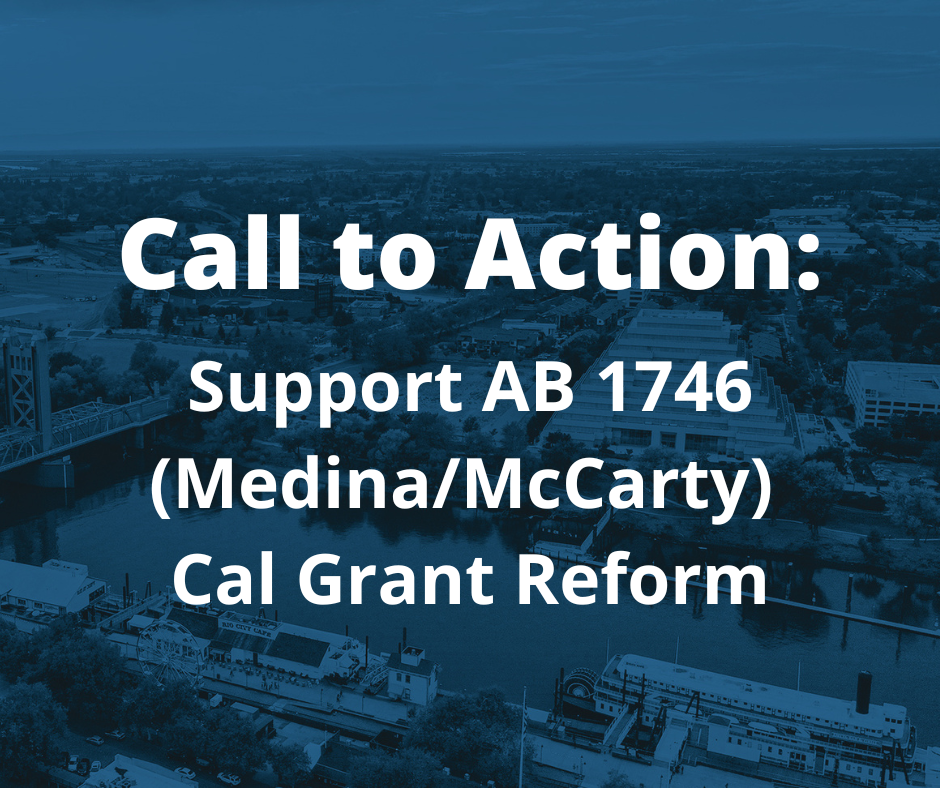 We urge you to join us in support of AB 1746 and submit a letter on behalf of your organization.
Support letters must be submitted no later than Friday, June 24th.
Below are instructions on how to submit your letter of support:
Click here to use and modify the letter template and add to your organization's letterhead.
Please submit the letter to the Legislative Portal and check both boxes for the Senate Education Committee and the author's staff, Julieanne Cravotto and Ismael Contreras, as recipients in the portal system.
If this is your first time submitting a letter via the legislative portal, click here for detailed instructions.
In addition to letters of support, please consider calling in during the Senate Education Committee hearing to make a public comment on Thursday, June 30th Upon Adjournment of Session to voice your support, session begins at 9:00 am. Instructions on how to dial into the hearing can be found here. 
For any questions, contact Anna Alvarado, Policy Director, at aalvarado@caedge.org.