AB 1705 by Assemblymember Jacqui Irwin will be heard in the Senate Education Committee on Wednesday, June 22nd at 9:00 am and we need your support!
AB 1705 (Irwin) aims to remove barriers to certificate and degree completion by ending lengthy remedial sequences and placing students directly into transfer-level English and math coursework that is appropriate to their pathway, while also coupling these courses with co-requisite supports, as needed, to enable student success. This is a critical lever in meeting the education and workforce goals of the state. (Factsheet)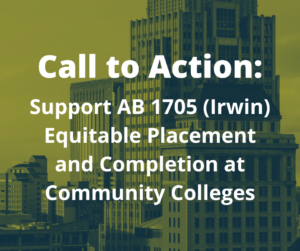 We urge you to join us in support of AB 1705 and submit a letter on behalf of your organization.
Support letters must be submitted no later than Friday, June 17th.
Below are instructions on how to submit your letter of support:
Click here to use and modify the letter template and add to your organization's letterhead.
Please submit the letter to the Legislative Portal and check both boxes for the Senate Education Committee and the author's staff, Wesley Whitaker, as recipients in the portal system.
If this is your first time submitting a letter via the legislative portal, click here for detailed instructions.
In addition to letters of support, please consider calling in during the Senate Education Committee hearing to make a public comment on Wednesday, June 22nd at 9:00 am to voice your support. Instructions on how to dial into the hearing can be found here. 
For any questions, contact Anna Alvarado, Policy Director, at aalvarado@caedge.org.