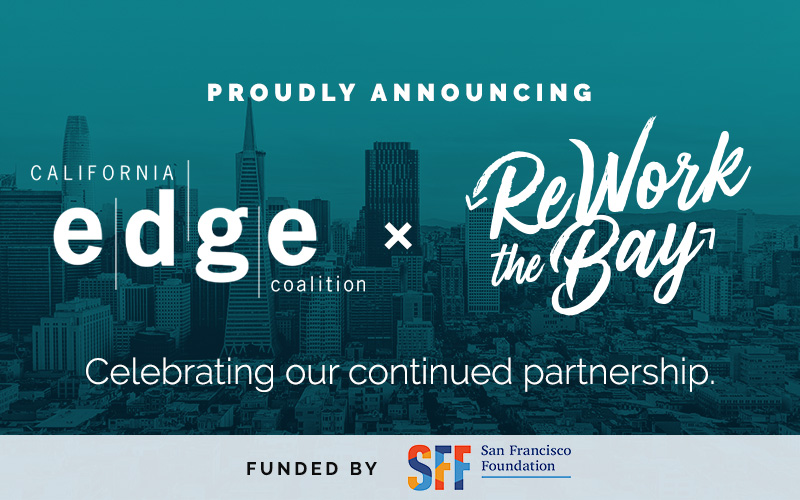 For the second year in a row, the California EDGE Coalition was awarded a grant partnership for the Bay Area-based project, ReWork the Bay. The objectives of ReWork the Bay are very much aligned with EDGE's mission, and we are proud to be part of this coalition to continue the good work of such an innovative and forward-thinking project.
Originally founded as a funder's group called the Bay Area Workforce Funders Collaborative, which granted more than $16 million to support efforts promoting economic improvement for marginalized communities, ReWork the Bay is an initiative by the San Francisco Foundation, a nonprofit organization, that prioritizes improving access to quality jobs for the Bay Area's low-income residents and strengthening their economic power and mobility. Today, the project continues its grant funding mission, but has since grown into a coalition of leaders and organizations fighting on the front lines for things like racial equity, legislation, and workforce programming. ReWork the Bay relies on the collective input and contributions of partners committed to business development, philanthropy, economic justice, and education and workforce equity, in order to provide effective solutions towards building a more equitable Bay Area.
This 2020/2021 grant funding helps EDGE to continue pushing policies that help Bay Area families and individuals address their needs like food, housing, transportation, childcare, and healthcare, all which enable them to successfully engage in career development, complete their programs of study at community colleges and trade programs, and participate in the process of building economic capacity in their communities.
You can find more information on ReWork the Bay at https://reworkthebay.org