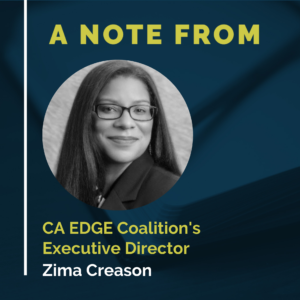 This month was tough for the EDGE family as we said goodbye to our dear friend and Board Vice President, Dr. Alma Salazar.
Alma demonstrated courage and leadership in everything she did, including her work with EDGE. We are heartbroken to lose her, but determined to keep her memory alive through our commitment to equity, social justice, and economic mobility for all Californians, values she ushered through the organization. Read more about Alma and her legacy.
While we mourn, we also look ahead to November with hope and positivity. EDGE encourages voters to make a plan, cast your ballots, and vote YES on Prop 16. We are also taking this important election month to review the organization's policy priorities for 2021, and to launch a new series highlighting our incredible Board Members and their organizations. I am excited to move our Coalition's important work forward in collaboration with our Board and partners. Please enjoy this month's reading.
Zima Creason
Read more: Monthly Newsletter, October 2020 Newsletter