On May 12, 2023, Governor Gavin Newsom released the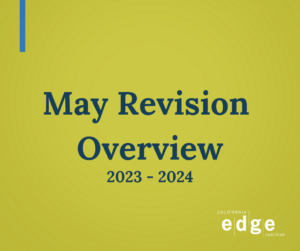 2023-24 May Revision – a $306 billion spending plan
with various adjustments to
the January budget proposal including funding delays, reductions, trigger cuts, and cost shifts in order to address the $31.5 billion deficit – a rise from the projected $22.5 billion deficit in January. Although California saw unprecedented fiscal growth within the last two years, state revenues have fallen short since the 2022 Budget Act was enacted, increasing the budget deficit. Additionally, the May Revision maintains state reserves that are projected to total $37 billion, helping mitigate the deficit. While the May Revision does not project a recession, it recognizes the potential risks that could significantly change the state's fiscal outlook in the near term.
Despite this year's budget shortfall, EDGE thanks Governor Newsom for largely maintaining historic investments made in previous years, such as funding to support community colleges, student support services, career technical education, dual enrollment pathways, and other workforce training programs intended to provide economic mobility for Californians paid low wages, returning students, and opportunity youth. However, there are various budget proposal still pending that seek to support California's most underserved communities, such as unemployment benefits for undocumented workers, youth workforce programs, and ensuring the state keeps its promise to fund Cal Grant Reform in 2024.
As budget negotiations between the Governor and Legislature progress, EDGE urges our state leaders to support investments in education and workforce strategies that will uplift Californians out of poverty and open the door to economic mobility.
The following is an overview of the May Revision which highlights key investments and budget adjustments in the areas of workforce development, education, and training.
WORKFORCE DEVELOPMENT PROGRAMS MUST BE PROTECTED TO SUPPORT WORKERS & THE ECONOMY
Women in Construction. The May Revision restores $15 million in 2023-24 and $15 million in 2024-25 for the Department of Industrial Relation's Women in Construction Priority Unit. The January budget proposal sought to delay this funding until 2025 to address the state's deficit. The unit is intended to support women and nonbinary individuals in the skilled trades sector.
Youth Jobs Corps Program. The May Revision maintains funding from the January proposal – $78 million ongoing to permanently fund the program intended to create and expand youth employment opportunities. Additionally, provisional language was added to provide set-aside funding for tribal communities, and to prioritize undocumented youth to promote participation within the program.
Prison 2 Employment Program. The May Revision includes $5.33 million onetime federal funds to allow the CA Workforce Development Board to implement a federal grant that expands the Prison 2 Employment program into federal prisons.
Health Care Workforce. The May Revision restores funding of $49.8 million General Fund over four years for various public health workforce training and development programs. These programs were approved in the 2022 Budget Act and were proposed for cuts in the January budget.
Trigger Cuts. The May Revision keeps the January trigger cuts to the following programs:

CA Youth Leadership Corps (CYLC). $20 million cut from the $60 million that was promised in last year's budget. If there are sufficient resources, funding will be restored in 2024. The CYLC program would expand earn-and-learn pathways for community college students.
Emergency Medical Tech Workforce – $20 million cut from the $60 million commitment in last year's budget to provide targeted emergency medical technician training for underrepresented youth. This proposal reduces the total 3-year investment to $40 million. If there are sufficient resources in 2024, the funding will be fully restored.
Apprenticeship Innovation Fund – $40 million cut from the $175 million commitment to the Fund. If there are sufficient resources in 2024, dollars will be restored. The apprenticeship fund would expand non-traditional apprenticeships in the state.
HIGHER EDUCATION INVESTMENTS LAREGELY REMAIN PROTECTED
Community College COLA. The May Revision proposes an increase of $25.4 million ongoing Prop 98 General Fund to reflect a change in the cost-of-living adjustment from 8.13% to 8.22%, and a decrease of approximately $2.4 million ongoing Prop 98 General Fund needed to sustain 0.5% enrollment growth.
Categorical Programs. The May Revision proposes an increase of $3 million ongoing Prop 98 General Fund to provide an 8.22% COLA for select community college categorical programs and the Adult Education Program. Additionally, the May Revision provides community college districts with funding flexibility across three categorical programs (The Student Equity and Achievement Program, Student Financial Aid Administration, and Student Mental Health Resources) with an expectation that districts meet the Multiyear Roadmap for Community Colleges. The roadmap outlines specific key goals and expectations of the community college system. The proposed language would direct the CCC Chancellor's Office to assess district-level progress towards the roadmap goals. CCC districts that do not hit their goals will have their flexible spending authority revoked and would be offered technical assistance.
Student-Centered Funding Formula. The May Revision proposes $503 million one-time Prop 98 General Fund to support Student-Centered Funding Formula costs for 2023-24.
Student Retention & Enrollment Rates. The May Revision proposes a decrease of $100 million one-time Prop 98 General Fund (January budget proposed $200 million) to support community college efforts and focused strategies to increase student retention rates and enrollment.
Golden State Education & Training Grant Program. The May Revision proposes to decrease $480 million one-time General Fund to dissolve the Golden State Education and Training Program at the end of the 2022-23 fiscal year. This program was implemented in 2021 to provide education and training opportunities to dislocated workers who lost their jobs due to the pandemic. However, due to low participation numbers, and lack of capacity to sustain the program, the proposal eliminates the program to address the deficit, recognizing there are other existing training programs that are currently serving its intended purpose.
Dual Enrollment. The May Revision maintains the dual enrollment proposal that supports community colleges to enter into agreements with all applicable schools – including creating a one-unit service-learning course to encourage civic engagement in their communities.
CC Strong Workforce Program. The May Revision proposes to expand eligible uses of funding for the Community College Strong Workforce Program funding, including providing funds for 2023-24 student grants to cover fees for third-party certification and licensing and supporting applied and experiential learning in the workplace, including work-based learning programs and models.
C2C Data System. The May Revision maintains funding to support the Office of the Cradle-to-Career (C2C) Data System, adding 10 new positions, reclassification of four existing positions, and $4.9 million General Fund in fiscal year 2023-24 and ongoing to fund and manage the data system's capacity efforts.
SOME SOCIAL SAFETY NET INVESTMENTS REMAIN PROTECTED, MORE MUST BE DONE
Health Care for All. The May Revision maintains the commitment to Health Care for All by providing Medi-Cal coverage regardless of immigration status, with $819 million in 2023-24 and $2.7 billion annually ongoing until it reaches full implementation.
Student Housing. They May Revision provides $450 million one-time General Fund for 2023-24 and $95.4 million one-time General Fund for 2024-25 for Community Colleges to support affordable student housing projects.
Child Care. The May Revision includes $6.6 billion to support child care programs, including waiving family fees until September 30, 2023, 8.22% COLA, and $169.2 million in federal funding to provide temporary stipends to state-subsidized child care providers.
CA Food Assistance Program (CFAP). The Department of Social Services continues to work towards implementing the CFAP expansion for income-eligible individuals aged 55 years or older to access food assistance, regardless of their immigration status. The January Budget delayed implementation to January 2027. Now, automation is anticipated to begin in July 2023 and food benefits issuance is anticipated to begin in October 2025. The May Revision includes $40 million General Fund for automation and outreach efforts.
OTHER EDUCATION & WORKFORCE PROPOSALS PENDING
As the Governor's May Revision focuses on budget adjustments to address the state's deficit, there are other priority budget items that advocates, and legislative leaders continue to push for:
Cal Grant Reform. The May Revision acknowledges the commitment made in last year's budget to fund Cal Grant Reform in 2024 and states the administration will continue to work closely with the legislature as that time draws closer. California has made some strides in removing barriers to access Cal Grant aid, like removing the time-out-of high school and age eligibility requirements. However, as budget discussions and negotiations continue that could impact next year's fiscal outlook, state leaders will need to prioritize key investments for Cal Grant Reform to become a reality for low-income students, particularly returning students and opportunity youth, who need critical financial aid assistance to complete their education and training programs.
Unemployment Benefits for Undocumented Workers. The May Revision does not include funding to support the legislature's proposal to create the Excluded Workers Program, which would provide workers who are ineligible for unemployment insurance due to their immigration status with $300 per week for up to 20 weeks.
Breaking Barriers to Employment. The May Revision does not include additional funding for the Breaking Barriers to Employment program, which provides individuals from underserved communities supplemental, supportive, and wraparound services they need to successfully enter, participate in, and complete workforce and education programs, with the goal of obtaining meaningful and family-sustaining jobs.  State leaders are proposing a $30 million investment for the program to continue serving individuals with significant barriers to employment.
As more budget details emerge via trailer bill language proposals, we look forward to working with the Administration, Legislature, and partners to ensure individuals paid low wages, returning students, opportunity youth, underserved communities, and businesses are provided the support they need to compete in today's labor market.
The Legislature has until June 15th to approve and pass a balanced budget.
For questions, please contact Anna Alvarado, Policy Director, at aalvarado@caedge.org.