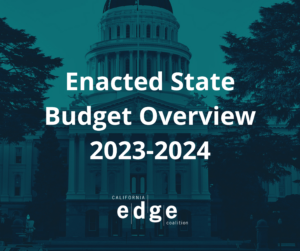 On July 10th, Governor Gavin Newsom signed key components of the final 2023-24 State Budget – a $310 billion spending plan that invests and protects funding programs in the areas of education, workforce training, and social safety net services to support underserved Californians who continue to face socioeconomic barriers across the state.
This budget reflects an agreement and collaboration between the Governor and the Legislature after months of negotiations on how to best meet the needs of Californians, while also responding to fiscal uncertainties and identifying strategies to bolster the state's economy.
Specifically, the Governor and the Legislature agreed that budget reserves need to be maintained due to significant fiscal uncertainties related to the economy and tax revenues to be paid by October. Projected state reserves are estimated to be $37.8 billion – the largest in state history. The final budget plan also closes a shortfall of more than $30 billion by implementing various funding shifts, delays, and trigger cuts, while also preserving key investments that were promised in last year's budget such as youth workforce programs, dual enrollment pathways, childcare access, and student support programs at community colleges.  
Although this year's budget faced a downturn in state revenues, it continues to center the needs of students, opportunity youth, working families, and industry  to strengthen our economy. However, there is work left to do to advance racial and economic equity for those who continue to be left out of our state's prosperity. EDGE remains committed to advancing education and workforce development policies and investments that create pathways to economic mobility and provide opportunity for all Californians.
The following is an overview of enacted state budget investments that align with EDGE's 2023 Policy Priorities.
Investments in Workforce Development & the Economy
Youth Job Corps – received $78 million ongoing to permanently fund the program, with language to include undocumented youth. This program creates and expands youth employment opportunities that provide valuable job skills, public service career pathways, and help youth engage with their communities.
CA Youth Leadership Corps – rejects trigger cuts of $20 million and maintains total funding of $60 million from last year's budget. This program provides earn-and-learn pathways for community college students to prepare youth paid low incomes – including youth of color, and immigrant youth – for community change careers in public/community health, clean energy planning/development, leadership, and social change.
Women in Construction Unit – maintains the $15 million investment to establish the Women in Construction Priority Unit at the Department of Industrial Relations – intended to support women and nonbinary individuals in the skilled trades sector.
Breaking Barriers to Employment Program – received $5 million one-time funding to support workforce and wraparound services for individuals facing barriers to employment opportunities.
Golden State Education & Training Grant Program – maintains the cut of $480 million one-time to dissolve this program at the end of the fiscal year. This program was implemented in 2021 to provide education and training opportunities to dislocated workers who lost their jobs due to the pandemic. However, due to low participation numbers, and lack of capacity to sustain the program, the budget eliminates the program to address the deficit, recognizing there are other existing training programs that are currently serving its intended purpose.
Health Care Workforce – The 2022 Budget Act invested $256.8 million in 2022-23, $361.7 million in 2023-24, and $369.9 million in 2024-25 for healthcare workforce grant programs administered by the Department of Health Care Access and Information. The final budget maintains this funding, shifts a portion of it across fiscal years, and changes the funding source from the General Fund to the Mental Health Services Fund.
Nursing Program – received an increase of $60 million one-time funding per year for 5-years to expand nursing programs and Bachelor of Science in Nursing partnerships to develop, educate, and maintain the next generation of registered nurses through the community college system.
Emergency Medical Technician Training – maintains the trigger cut of $20 million from the $60 million commitment in last year's budget. This program would provide emergency medical technician training for underrepresented youth. This proposal reduces the total 3-year investment to $40 million. If there are sufficient resources in 2024, the funding will be fully restored.
Apprenticeship Innovation Fund – maintains the trigger cut of $40 million ($20M this year and $20M next year), leaving $135 million in total. The 2022 Budget Act originally included $175 million General Fund over three years. The apprenticeship fund would expand non-traditional apprenticeships in the state. If there are sufficient resources in 2024, the funding will be fully restored.
Technical Assistance to Small Businesses – $23.5 million in Federal Funds to be spent over 5 years for the Office of the Small Business Advocate to provide technical assistance to small businesses, including businesses owned by socially and economically disadvantaged individuals applying for State Small Business Credit Initiative capital programs.
Made in California Program—$1.5 million one-time to relaunch the Made in California Program and conduct outreach to increase participation in the program. The program aims to support in-state manufacturing by increasing consumer awareness of in-state production.
Investments in Education & Student Support Services
Community Colleges – received $790 million ongoing for the Student Centered Funding Formula, which also includes an 8.22% COLA increase – $678 million. This same COLA increase is also provided to the Adult Education program and several categorical programs, as well as student support programs, basic need centers, and mental health services.
Golden State Pathways Program – no cuts to the program, maintains last year's commitment of $500 million. GSP is intended to provide integrated programs of study, work-based learning, dual enrollment, and career tech opportunities for underserved youth in sectors critical to regional economies.
Cradle to Career Data System – received $4.9 million ongoing to fund 10 positions to support implementation and capacity efforts. The data system will provide tools to help students reach their career goals & provide critical information on education and workforce outcomes.
CC Student Retention – $50 million one-time Prop 98 allocation for student retention and recruitment strategies at the community colleges.
Student Success Completion Grant Program – authorizes a specific award of the Student Success Completion Grant of $5,250 per semester for current and former foster youth at the community colleges, to cover the total cost of attendance.
Online Education Study – $500,000 one-time funding for a comprehensive study of online education at the community college system.
Investments to Advance a Social Safety Net
Food for All – maintains the commitment to expand the CA Food Assistance Program (CFAP) for undocumented immigrants 55 years or older and provides access to food benefits sooner than anticipated – from January 2027 to now October 2025. However, the proposed expansion to cover undocumented immigrants 54 and under was not included. 
Child Care – $2.8 billion ($1.7 billion General Fund and $1.1 billion Prop 98 General Fund) for reimbursements to preschool and child care and development program providers over two years subject to labor contract agreement between the Administration and Child Care Providers. The budget also waives family fees until September 2023.
UI Benefits for Undocumented Workers – No investment to provide unemployment insurance benefits for undocumented workers. Further, the budget plan did not estabish the workgroup that would have  been created under the Labor Agency to identify strategies to build out the program in the future.
CalWORKs – $111.2 million for an ongoing 3.6% increase to CalWORKs grants, effective October 2023. This increased grant cost is funded entirely by the Child Poverty and Family Supplemental Support Subaccount of the Local Revenue Fund. The CalWORKs program provides temporary financial assistance, employment and educational services, and a variety of other supports to eligible families with children.
For questions, please contact Anna Alvarado, Policy Director, at aalvarado@caedge.org.