On September 30th, Governor Newsom took final action on all pending measures that were passed by the Legislature – a total of 1,166 bills. Of these bills, hundreds were signed into law that are considered to be some of the most historic pieces of legislation ever approved, such as workplace rights and better working conditions for farmworkers and fast-food workers, increased paid family leave for workers paid low wages, remedial education reform, investments in training to expand the health care workforce, measures to address climate justice and housing affordability, and increased career tech education opportunities.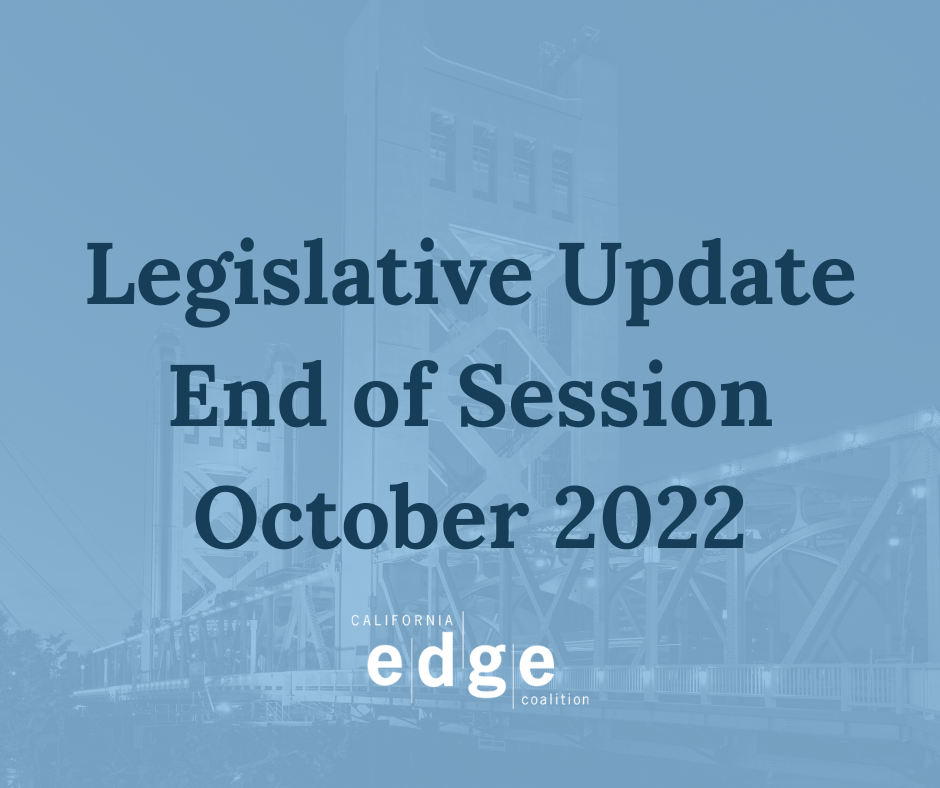 Over the course of the 2022 legislative session, the CA EDGE Coalition focused on various education, training, and workforce policy efforts centered on the needs of opportunity youth, adult learners, workers, and industry. Specifically, our 2022 policy priorities sought to strengthen and advance policies intended to secure a social safety net for underserved communities, sustain community colleges and their programs, and work with industry partners to stabilize their workforce – all while ensuring strategic funding and initiatives were developed through an equity lens. Building upon last year's efforts, the Governor signed critical measures that EDGE has been supportive of throughout the year in the areas of dual enrollment, expansion of workforce training opportunities, and support services for youth and adults that have been disconnected from the education and workforce systems. 
In addition to legislation, EDGE strongly advocated in support of various budget items, including investments in student financial aid, career technical education, social safety net services, and increased investments for small businesses. These budget priorities were included in the final 2022-23 State Budget Act, a total of $300 billion investment in the areas of education, workforce training, and economic recovery strategies that respond to the rising inflation crisis and other socioeconomic barriers continuing to impact Californians across the state. For more information on the enacted state budget, please see our budget overview here. 
As we close another successful legislative session, the work is far from done. Entering the 2023 legislative cycle, EDGE remains committed to working alongside our partners, the Legislature, and Administration to chart a path towards economic mobility that centers equity and removes barriers for California's most underserved communities, while supporting industry to hire a trained workforce. Strategic investments must prioritize communities that have been left out of our state's prosperity, particularly communities of color, women, opportunity youth, and undocumented immigrants, as well as empower them with resources to secure family-sustaining jobs; while also supporting our industry partners to keep businesses open and strengthen our economy. 
Click here to read a summary of EDGE's 2022 priority bills and budget proposals with their final outcomes.