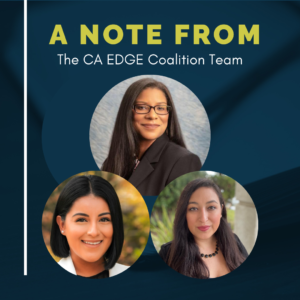 March is Women's History Month. This month, we've engaged with partners on solutions to workforce recovery, held conversations on flexible learning options for adult learners, and advocated for a social safety net for underserved communities.

We celebrate this movement for shared economic prosperity– a movement that is absolutely fueled by the brilliance and fortitude of women.
We also pause to acknowledge that this month we experienced a traumatic loss. The murders of eight souls, six of them Asian women at their workplace in Georgia, by a white supremacist. This tragedy left us stunned and heartbroken. Gender and racial oppression, and violence, are part of systems the CA EDGE Coalition is actively working to transform. Diversity, representation, access, and economic mobility are all tools to dismantling heinous systems of oppression and violence. We are unwavering in our solidarity with women and the Asian community and we are grateful to the many partners working alongside us who share this vision.
Thank you for your continued support of our women-driven organization. Please enjoy this month's reading and stay safe.

Click here to view: Monthly Newsletter, March 2021