Dear Friends,
California has a staggering number of unfilled good jobs and an incredible pool of talent living in poverty or below a living wage. It just does not make sense!
Access to economic mobility is one of the most critical social justice issues facing us today. Many of the negative outcomes leaders and decision makers work to address through policy change and investments could be avoided if we remove the barriers Californians face in accessing education and training. Californians want to secure good jobs with family supporting wages and benefits. When individuals have the financial means to take care of themselves and their families, acts of desperation taken simply to survive would no longer be pervasive.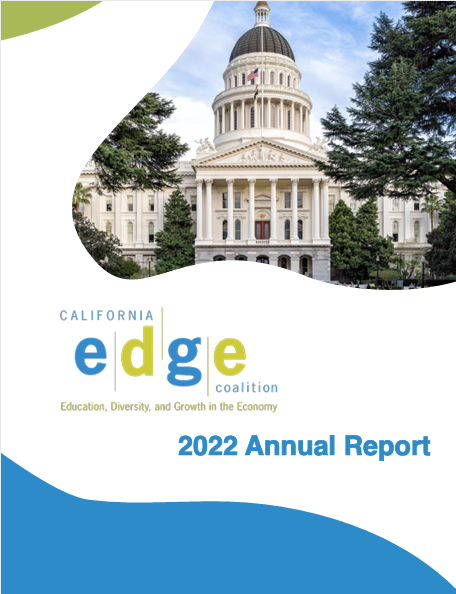 I'm so thankful to have the opportunity to work with the amazing EDGE Board and staff to address these issues and advance our goals to ensure employers have the workforce they need, and Californians have quality jobs available to them.
In the past year there have been historical changes in California – some to the benefit and others to the detriment of Californians. The EDGE team is proud of our success, many of them shared in this Annual Report, but I'm more excited about the opportunities the next 12 months will present.
Please enjoy our 2022 Annual Report, a reflection of the past 12 months and a testament to the strength and dedication of the incredible EDGE team.
All of us here at EDGE look forward to the opportunity to partner with you to advance our shared goals.
Sincerely,
Zima Creason
Executive Director
Read the full report here.