In 2019, the CA EDGE Coalition proudly sponsored SB 554, which authorizes a community college district to allow an adult student pursuing a high school diploma or a high school equivalency certificate to simultaneously earn college credit – also known as adult dual enrollment. Prior to this law, dual enrollment did not allow adult learners enrolled in high school equivalency programs to concurrently enroll in a community college course. Adult dual enrollment (ADE) programs allow learners to advance their education and training goals faster, makes the education and training journey more affordable, and allows people to more quickly earn credentials that qualify them for high demand jobs that industry is looking to fill.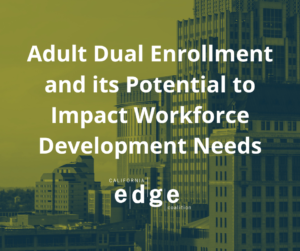 As education agencies started to build and map out their ADE programs, they were quickly hit with the challenges of the COVID-19 pandemic. In the fall of 2021, the California Adult Education Program (CAEP) partnered with the High Road Alliance to gather input from the field about the status of ADE and to gauge not only the impacts of the pandemic but what educational agencies had learned in the two years since the passage of SB 554. Their findings and recommendations were recently released in the report Dual Enrollment in CA Adult Education & Community Colleges: Lessons & Opportunities. EDGE proudly served as an advisor on the project and the report highlights that while there are challenges that need to be addressed, ADE is an important strategy for increasing access to higher education for adults who are ready to pursue college.
ADE has the potential to serve as a springboard for academic progress and economic mobility for Californians that have been historically left out of California's prosperity, and it can address critical workforce needs. It is vital that industry partners are aware of ADE and its potential.
EDGE is working to advance implementation of ADE programs and invites you to join us in our advocacy efforts. Stay connected by joining our email list so you never miss an update or advocacy opportunity.
Learn more about the adult dual enrollment here, where you will find the full report, an informative webinar recording, and the webinar slides.